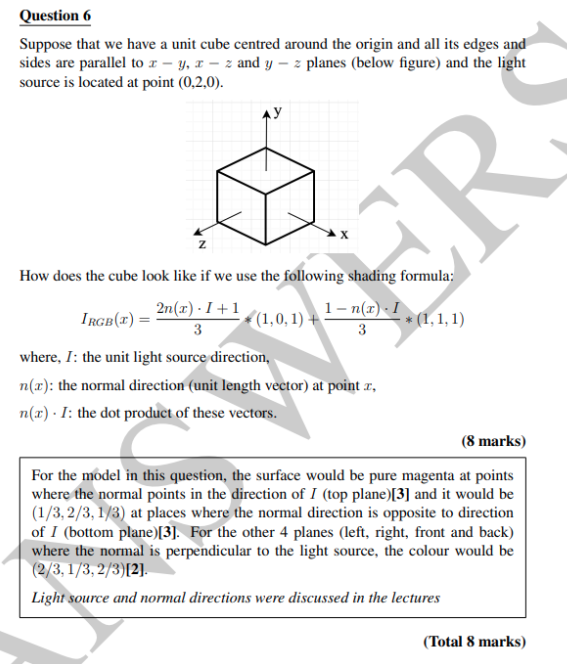 The above problem is from a past Computer Graphics exam.
I am particularly confused about the explanation given, firstly for the top and bottom planes (since the direction of normal for top plane seems to be opposite the direction of I)
I tried to calculate the normal vectors, for the top plane for instance, by choosing two arbitrary points on the top plane ([1,1,1] and [0,1,0]), subtracting the two point vectors to get the vector lying across the plane. I then used the fact that the normal vector dot product with the vector lying across the plane equals zero to get a linear equation of the plane in the form Ax + By + Cz = 0, and used that to try to find the normal vector from the A,B,C components to multiply by the unit vector to yield the normal vector. This seems to be incorrect to me since it gave a normal vector defined as (1,0,1), which intuitively seems incorrect.
I do intuitively understand that the normal vector from the top plane will be positive in the y axis, and the normal vector from the bottom plane will be negative in the y axis. I can also see that a vector in the positive y axis would go towards the magenta light source so the plane that defines that normal vector would be illuminated. I do not understand how the specific values were computed.
If possible, an explanation of how they obtained values for the top plane, bottom plane, and 4 other planes would be appreciated. Thanks.